Back to all Webinars
Inclusive Crisis Preparedness and Management Webinar
17.05.2022 | 00:00 | UTC+03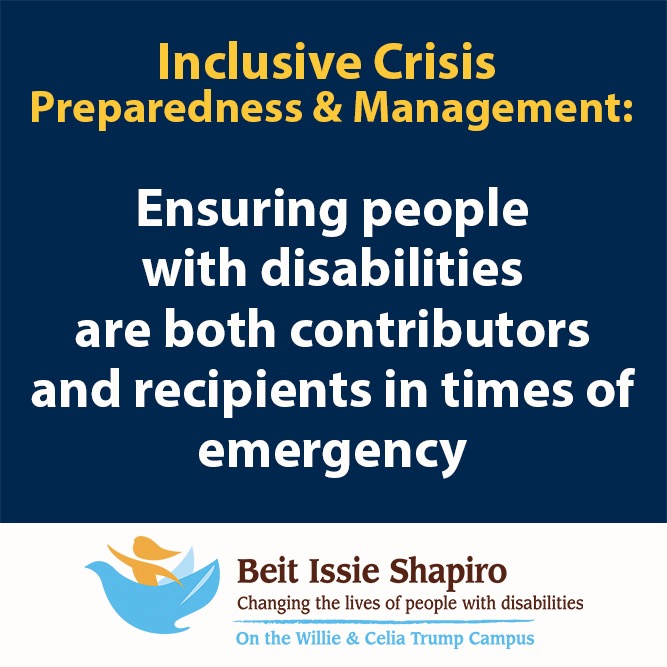 Beit Issie Shapiro lecturers
Session I: Inclusive Social Design
Inclusive crisis management requires inclusive practice – "nothing about us without us." Why the most important steps you can take to ensure people with disabilities are seen, heard, supported and can contribute in emergencies, starts now.
Principles of inclusive social design – how inclusive social design from the get-go infuses strategies and lays the groundwork for action during crisis
Example: Beit Issie Shapiro's Leadership Center – groups of people with disabilities leading social change – and its impact on people with disabilities during COVID
Lecturers: Yoav Kraiem, Director of Social Change; Osnat Yeheskel-Lahat, Coordinator, Leadership Centre's Health Forum at Beit Issie Shapiro
Session II: Service Provision
Periods of crisis, such as armed conflicts and the COVID pandemic, have far-reaching consequences for the economy, education, culture and health systems.
This requires organizing and developing creative infrastructures and solutions that will allow for the provision of adapted and accessible services for various populations, including people with disabilities.
Such Innovative solutions, e.g. digital platforms and remote service provision, have proven to be effective not only in times of crisis, but also when they are integrated in the day-to-day service provision, making services accessible to many populations.
Example: Beit Issie Shapiro's service provision during armed conflict (hotline for families) and COVID (virtual kindergarten, tele-therapy, etc.)
Lecturers: Dana Cappel, OT at Special Education School & Technology Center; Rachel Blum, SLP at Early Intervention Center & Technology Center at Beit Issie Shapiro